Getting Here to Penang
Visitors to Malaysia must obtain a visa unless they come from one of the visa-exempt countries. The Malaysian Government issues three types of visas to foreign nationals: Single Entry Visa, Multiple Entry Visa, and Transit Visa.
The Malaysian Immigration Department allows online visa applications to foreign nationals from certain countries through eVISA. You can check for visa eligibility, requirements, and fees by country, eVISA eligibility, and any other pertinent information by referring to the Malaysian Immigration Department.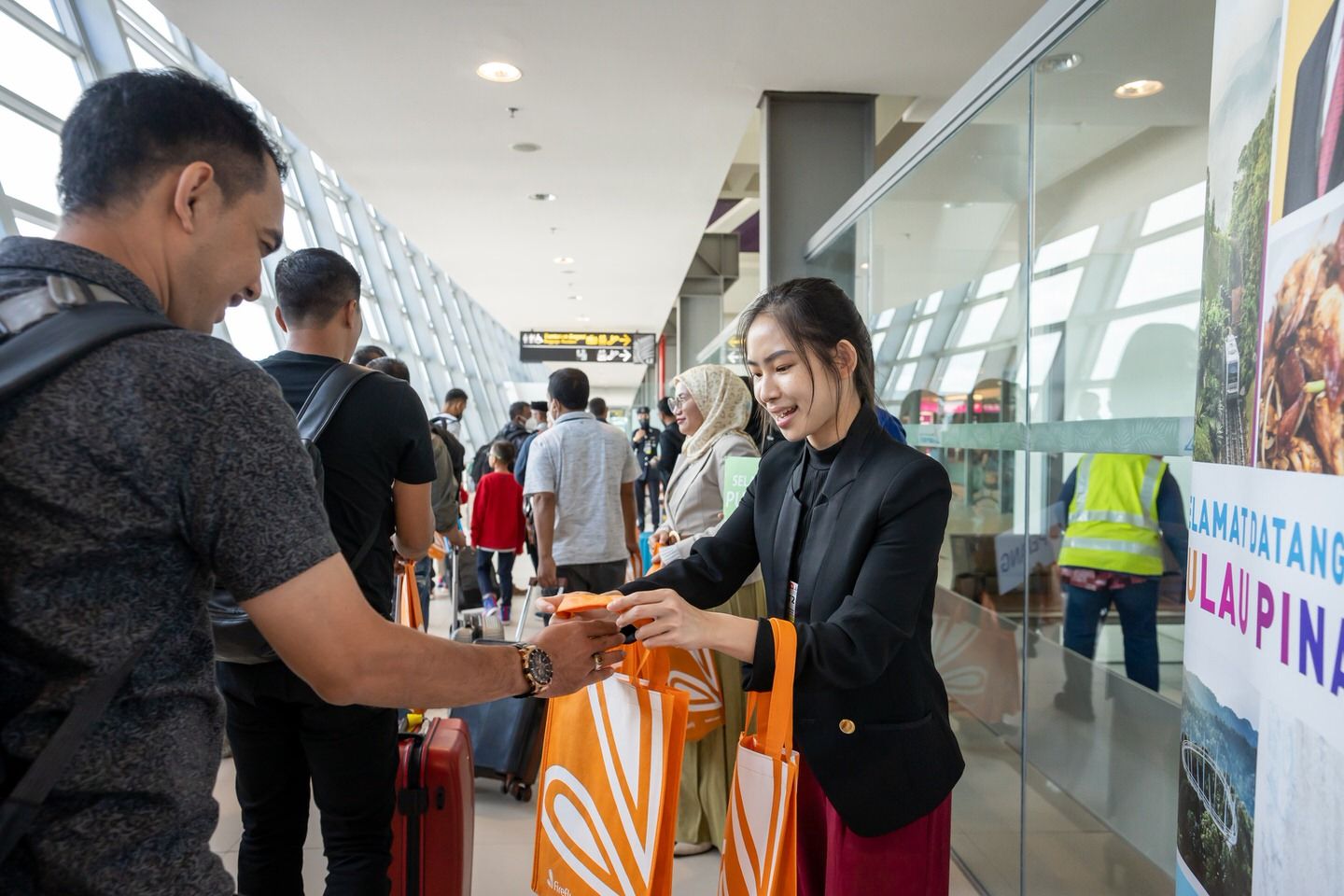 By Air
Penang is easily accessible by air with daily flights from major regional cities. Penang's International Airport is about 20 km from the city centre. Taxis that ply the route follow the coupon system where fares between airports and destinations in Penang are fixed.
The most frequently departed flights to Penang are from Kuala Lumpur's SZB and KUL. These two routes comprise approximately 47% of all monthly arrivals at Penang International Airport.
Currently, there are 13 airlines that fly to Penang: Firefly, Malindo Air, Lion Air, Singapore Airlines, Starlux Airlines, Cathay Pacific, Thai Smile, Citilink, Scoot, Jetstar Asia, China Airlines, AirAsia, and Malaysia Airlines.
Flights from Hong Kong to Penang
Direct flights are offered by Cathay Pacific.
Flights from Indonesia to Penang
From Banda Aceh, direct flights are offered by Firefly.
From Jakarta, the only airline with direct flights is Batik Air.
From Medan, you can fly non-stop with Citilink or Lion Air.
From Bali, you can fly non-stop with AirAsia.
Flights from Singapore to Penang
Direct flights are offered by Jetstar Asia, Scoot, and Singapore Airlines.
Flights from Taiwan to Penang
From Taipei, you can fly non-stop with China Airlines or Starlux Airlines.
Flights from Thailand to Penang
From Bangkok, direct flights are offered by Thai Smile.
From Phuket, the only airline with direct flights is Firefly.
From Kuala Lumpur, you can fly non-stop with AirAsia, Malaysia Airlines, Firefly, or Malindo Air.
From Johor Bahru, Kota Bharu, Kota Kinabalu, Kuantan, Kuching, and Langkawi, all direct flights to Penang are operated by AirAsia, Malaysia Airlines, Malindo Air, and Firefly.
From Melaka, you can fly non-stop to Penang with Malindo Air.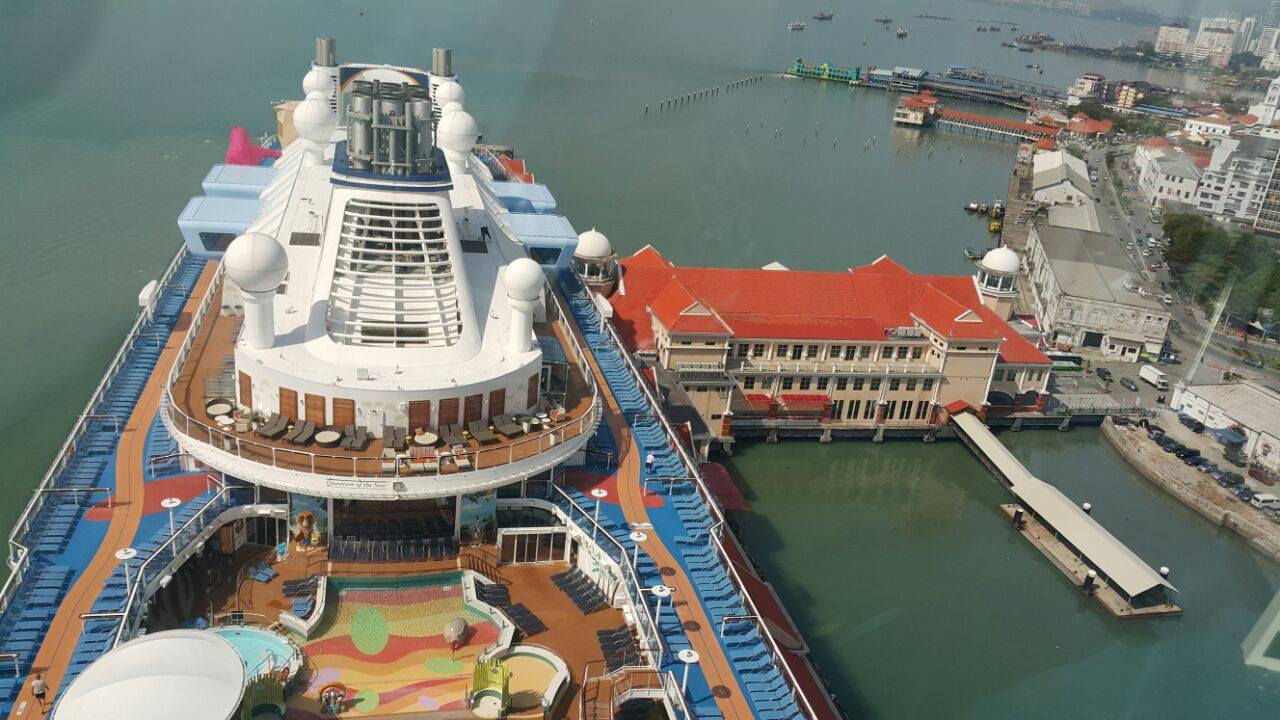 By Sea
As a major point of entry for tourists by the sea of Penang Island, Penang Port is now able to receive some of the largest cruise vessels in the world with the completion of the new Swettenham Pier Cruise Terminal. It has a main berth that is 820 meters in length with a water depth of 12m, capable of handling the largest cruise vessels in the world. The terminal can cater to larger cruise vessels carrying more than 2,000 passengers and equipped facilities such as shopping lots and transportation facilities. The three-storey high terminal building, which occupies a total area of >15,000 sq. meters, has the ideal facilities for cruise passengers' arrivals and departures.
With the new Swettenham Pier Cruise Terminal in operation and located within the UNESCO Heritage Site, Penang will not only be an international cruise vessel destination but also act as a catalyst in the development of the local and international tourism industry. 2019 saw Swettenham Pier Cruise Terminal handling nearly 1.16 million passengers.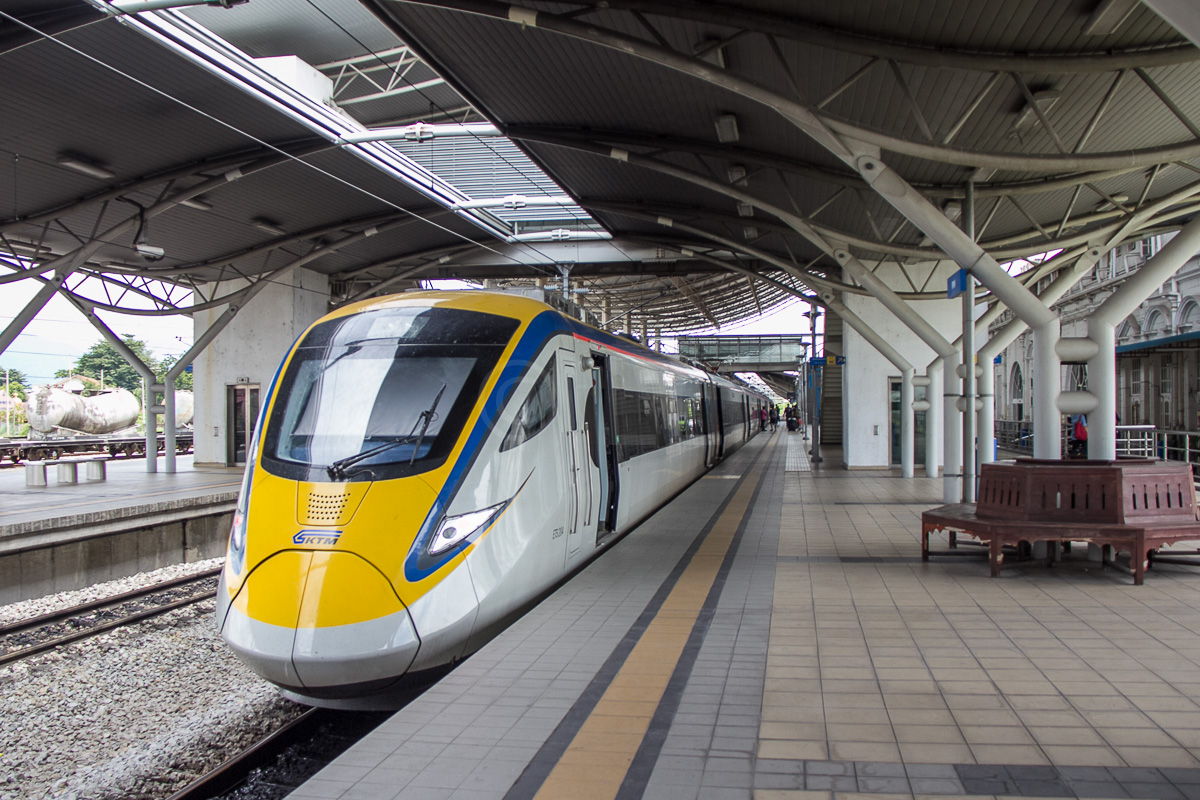 By Train
The ETS train from Kuala Lumpur to Penang is one of the most popular passenger routes. Introduced as a fast and safe mode of transportation, the ETS trains allow passengers a hassle-free travel experience. Taking the train allows one to see a lot of the countryside, and it is a comfortable way to travel within the country. Offering passengers an abundance of activities, the train ticket from KL to Penang is definitely one that is in popular demand.
The KTM ETS is an inter-city rail passenger service operated by Keretapi Tanah Melayu using electric multiple-unit trains, with six services daily on the route between KL Sentral and Penang Sentral in Butterworth, taking not more than 4 hours and 30 minutes to make the journey.
For access from Singapore, the railway station on Penang Sentral connects to the main line, which runs from Bangkok to Johor Bahru.
Booking your train ticket from KL to Penang is made easier with KTM's online platform. Passengers can book their tickets through the e-ticketing system or mobile application. Passengers are advised to check preferred trips and ticket prices before booking. Being a very popular route, do remember to book your tickets earlier as they are often sold out during festivals and public holidays.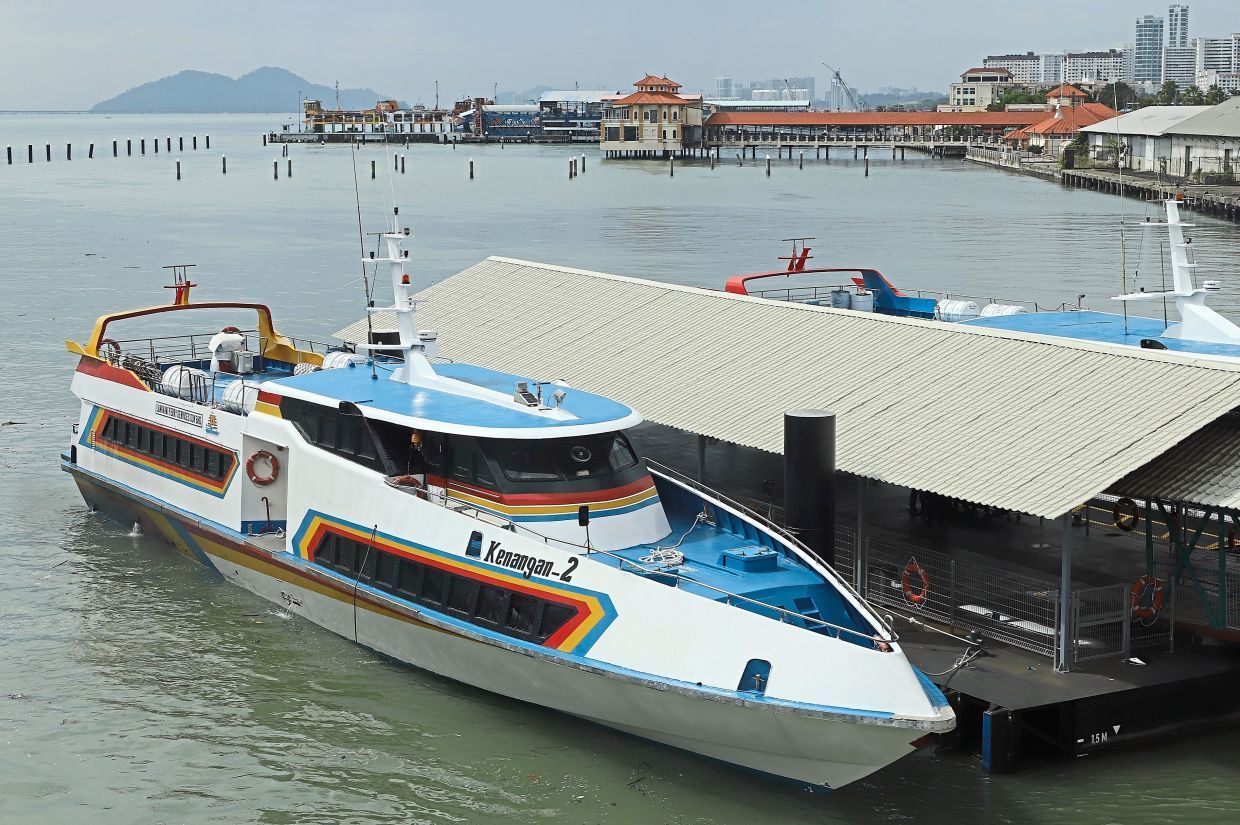 By Ferry
Penang Sentral is just a few minutes' walk from the Butterworth to Penang Ferry departure gates, so if you are heading over to the island, you don't have far to go. The Ferry Terminal or Jetty is where passengers board the ferry that plies between Penang Island and the mainland. Penang Island is just a 10-minute ferry ride from Butterworth.
Passengers from George Town will embark from Swettenham Pier Cruise Terminal (SPCT) and disembark at the ferry terminal Pangkalan Sultan Abdul Halim (PSAH). Passengers from Butterworth will embark from ferry terminal PSAH and disembark at SPCT. The Fast Ferry1 operations will only be available for pedestrians. The Vehicle Ferry operations will only be available for motorcycles and bicycles.

Weekday
07:00 AM - 09:00 PM Departing from island SPCT to mainland PSAH
06:30 AM - 08.30 PM Departing from mainland PSAH to island SPCT
Weekend
07:30 AM - 09:00 PM Departing from island SPCT to mainland PSAH
07:00 AM - 08.30 PM Departing from mainland PSAH to island SPCT

30 minutes (peak hours) & 60 minutes (non-peak hours)

Adult RM1.20 / Child RM0.60
PSAH Terminal Facilities: E-Hailing, Bus Terminal, Mall, ATM, Train
SPCT Terminal Facilities: E-Hailing, Bus Stop, Auxiliary Police, Convenience Store
1 The Fast Ferry operations will operate with 2 ferries at one time and be able to cater to 200 passengers per trip.
2 For the latest information about the Passenger Ferry schedule, please refer to Penang Port.
3 The ferry is free of charge from island SPCT to mainland PSAH. Fare is imposed only from the mainland PSAH to the island SPCT.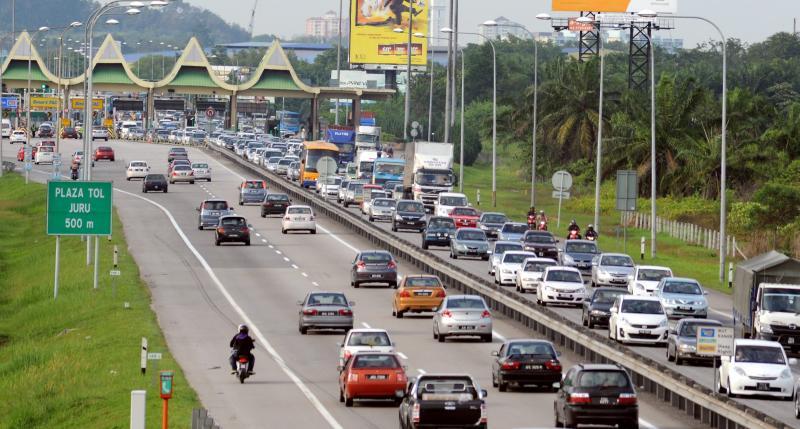 By Road
The North-South Expressway (NSE), or PLUS Expressway, is the longest controlled-access expressway in Malaysia, with a total length of about 748 km running from Bukit Kayu Hitam in Kedah near the Malaysian-Thai border to Johor Bahru at the southern portion of Peninsular Malaysia and to Singapore.
The NSE passes through 7 states on the peninsula: Johor, Melaka, Negeri Sembilan, Selangor, Perak, Penang, and Kedah. The NSE connects Penang to major cities and towns in western Peninsular Malaysia. It provides a faster alternative to the old federal route, thus reducing traveling time between various towns and cities. Travel by highway can take anywhere from 4-6 hours, with toll charges in between. The Penang Bridge is the vital link connecting Penang Island and Perai on the mainland of West Malaysia, with a total length of 13.5 kilometers. The Sultan Abdul Halim Mu'adzam Shah Bridge, popularly called the Second Penang Bridge (or Penang Second Bridge), is a bridge linking Penang Island to Batu Kawan on the mainland. It is 24 km, with a length over the water of 16.9 km. Its length over water is double that of the first Penang Bridge. Since its completion, it has been the longest bridge in Malaysia.
Check toll charges on PLUS Expressway and Penang Bridges here.
By Bus
For some visitors, interstate buses are an affordable and convenient travel option. Penang enjoys services from bus ticket booking websites.
By Car
Driving to Penang? Use Google Maps to get directions, and plan for where to park (there's some street parking, plenty of private parking and some hotels offer package deals that include parking).
---
Getting Around Penang
Penang is an excellent walking city, and getting around on foot is the best way to familiarize yourself with neighborhoods. Of course, sometimes you will need to move more quickly or cover great distances, for which you've got public buses, taxis, e-hailing, car rental, motorcycles, bicycles, or even trishaws at your disposal.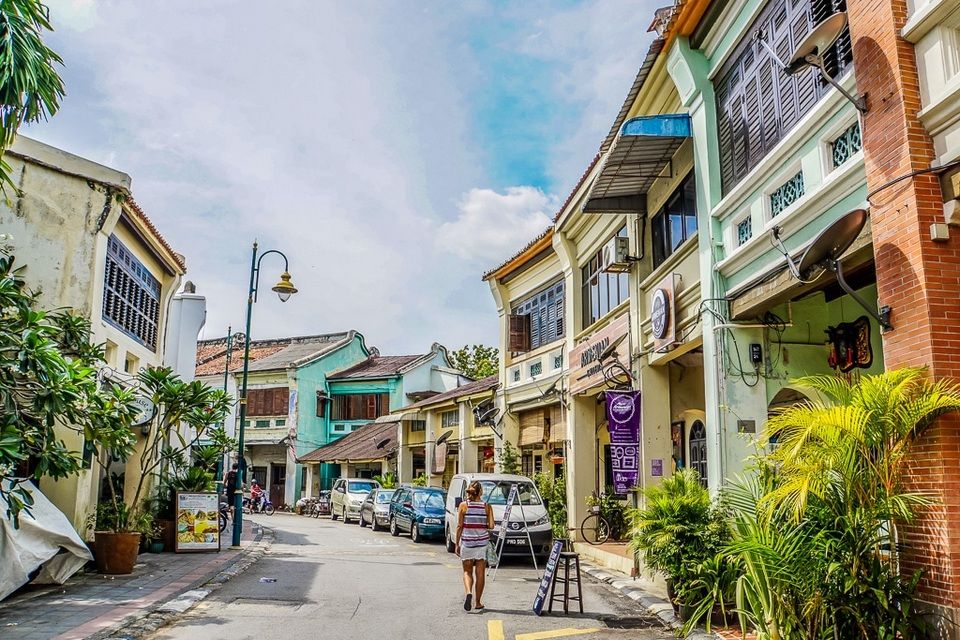 Walking
One of the best ways to sightsee is to walk around George Town. Wear light clothes, start early in the morning, and put on plenty of sunblock during the daytime. Remember to look both ways when crossing the roads, even on a one-way street.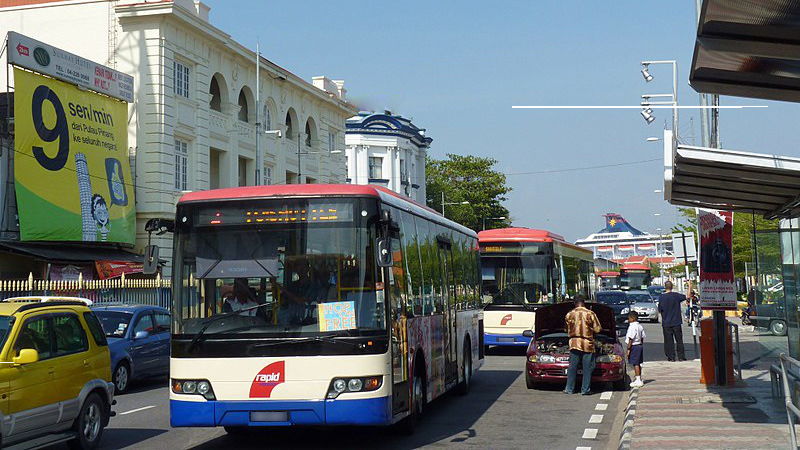 Public Bus Service
Penang is easily explored by car, but for those who want to see more of it, there's a bus network, too. The primary public bus service is Rapid Penang, which covers an extensive area on the island and mainland. Traveling in Penang is made easier with the Rapid Penang buses. It also operates a Free CAT (Central Area Transit) bus service within George Town. KOMTAR Terminal is the central transfer terminal for buses that cover the whole of Penang Island. Upon boarding the Rapid Penang bus, inform the driver of your destination, pay the amount required and receive a ticket for your trip. Remember to prepare exact change as no change will be given back as all buses do not carry change for safety reasons.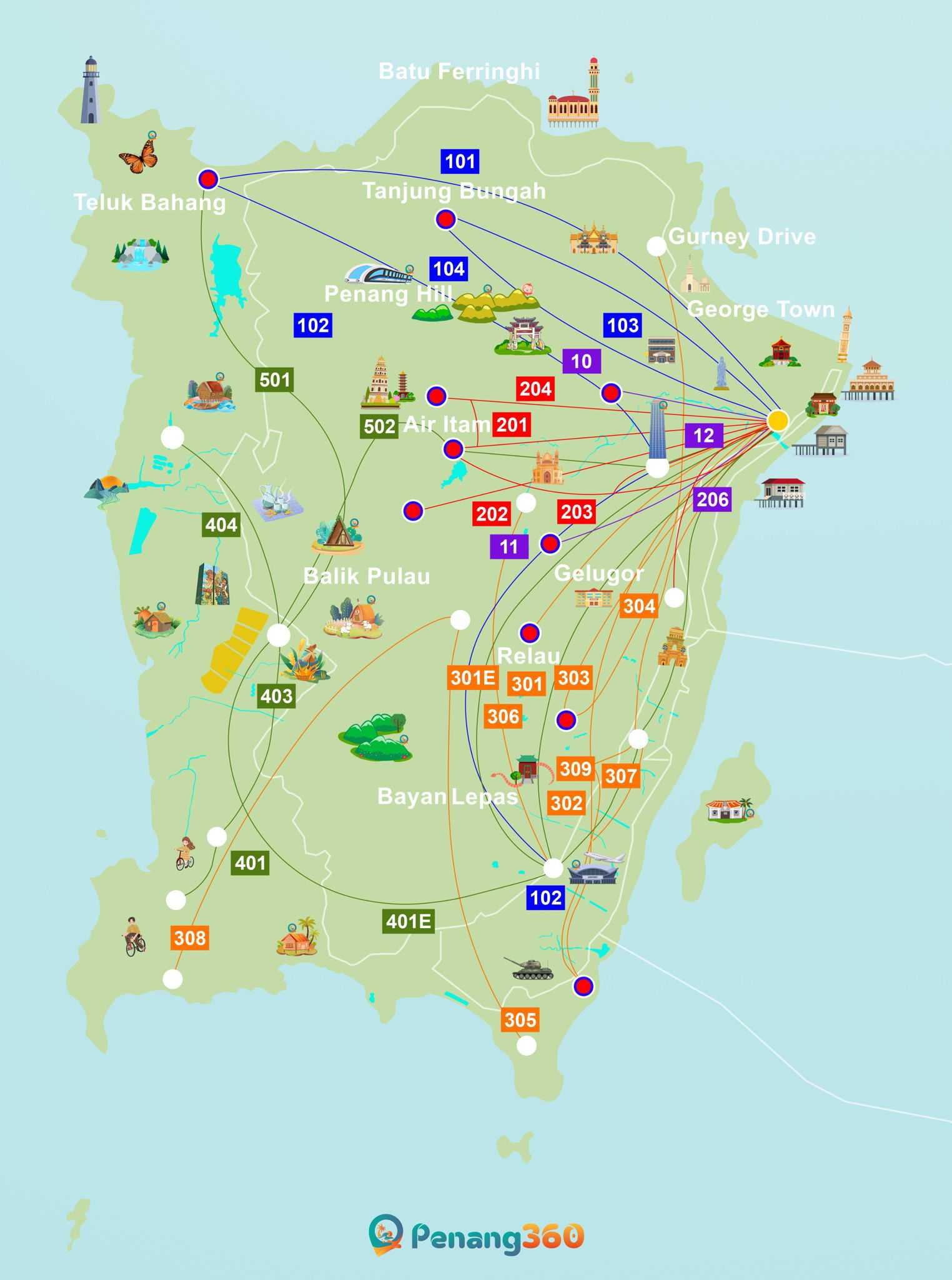 Check the bus routes, operating hours, and fares here.
CAT Shuttle Bus
Free CAT (Central Area Transit) Bus is a free shuttle bus service that operates within George Town. It is the most common means of transportation for visitors to get to popular local attractions for free. Trips are at intervals of 15 minutes. Look for Rapid Penang buses with a "Free CAT Bus" sign.
Operating Hours: 6:00 AM to 11:40 PM
Fare: Free
Bus Stops from Ferry Terminal to KOMTAR
2 Ferry Terminal → 3 Little India → 4 Immigration → 5 Bank Negara → 6 Museum → 7 Muntri Street → 8 Campbell Street → 9 KOMTAR
Bus Stops from KOMTAR to Ferry Terminal
9 KOMTAR → 11 Kedah Road → 12 Chowrasta Market → 13 KOMTAR East → 14 Carnarvon Street → 15 Kampung Kolam → 16 Penang Supreme Court → 17 Dewan Sri Pinang → 18 Fort Cornwallis → 19 Downing Street → 1 Weld Quay → 2 Ferry Terminal
For a shuttle bus adventure in George Town, here is where you should hop on and hop off.
Taxis
Taxis are readily available in Penang. It is a common means of getting around. Strictly speaking, the taxi fares are fixed, and the whole experience of agreeing on a price should be straightforward. Nevertheless, be sure to agree on a price before boarding the taxi. Start by asking how much it is to get to your destination. You can also ask for the fare per kilometer. Taxis are typically very safe in Penang, as they are regulated.
E-Hailing
Apps such as Grab are available in Penang. Simply download the app to start booking your trips. Payment is either by cash or credit/debit card.
For more details on taxis in Penang, see our Taxi Guide. Bus and Light Rail Buses are very cheap in Penang and you can reach most parts of the city from George Town. Most buses run from about 6am to 10pm daily. There are many bus stops along Jalan Tun Dr Lim Chong Eu but it's not always clear where they are, so ask around. To get to Penang Hill, take a bus from the central bus station.
Rent-a-Car
Renting a car offers excellent flexibility and convenience. They are charged at a daily or hourly rate – you have to pay a deposit, and the car is yours to go anywhere. Car rentals are available around town, and they're helpful when you need to get somewhere in a hurry but don't have a full day to spend driving around. How much does it cost to rent a car? Car rental rates vary from area to area.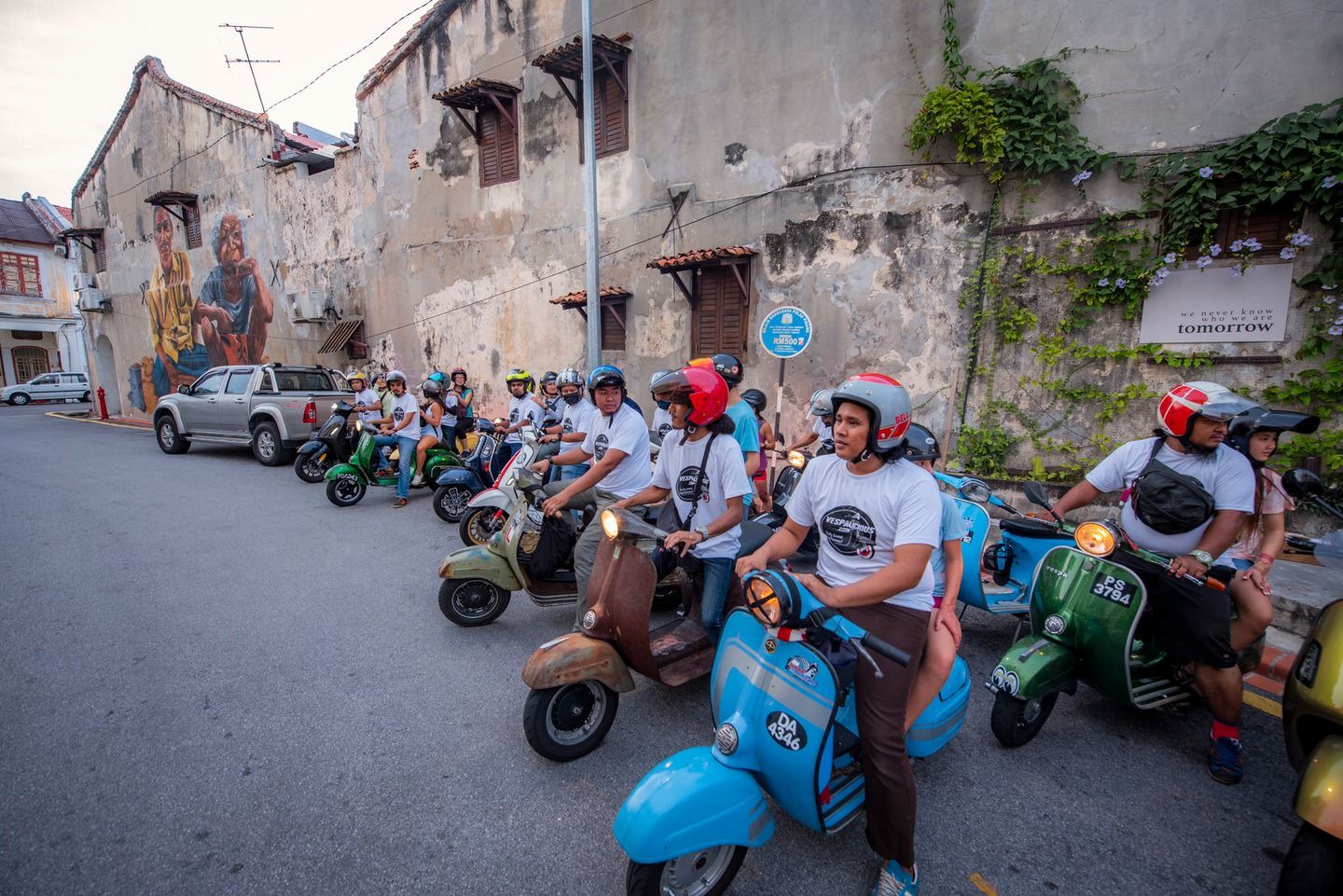 Rent-a-Scooter/Bicycle
Rent a scooter; you can cover most of the island in three or four days, taking in some of the highlights and winding up in a different place for dinner. Cycling is also an excellent way to see the island, and there are lots of routes. The roads are mostly good quality, and the weekday traffic is light. There is a shared bike system in the city and its surroundings. Other bike rentals are available along George Town, Balik Pulau, and Batu Ferringhi.
Rent-a-Trishaw
The 3-wheeled trishaw is a novelty for visitors to enjoy in Penang. If you enjoy rides with a breeze, opt for a trishaw ride. It is one of the most flexible transport options around the city, as you can make a few stops along the way and shop for souvenirs. The town is filled with exciting places and activities. You can visit museums, churches, shopping malls, parks, and galleries with a trishaw ride. Negotiating the price with the driver before starting your journey is advisable.