Penang Exchange 2022 is an arts and crafts festival organized in Penang, a brainchild of the Malaysian Craft Council (MCC), with the name chosen to emphasize the need to make the craft industry more versatile and contemporary, while providing a platform for local artisans to be exposed to current trends at international level.
Crafted for the sustainability of our noble heritage; the event will be hosted in Penang to celebrate the state's rich, colorful and diverse multiracial artistic expressions of Malaysia-a true family display of the nation and Asia as a whole.
Penang Exchange aims to revisit the profile of the arts and crafts of Malaysia and make it versatile in the modern era.
---
P. Ramlee Theatrical Concert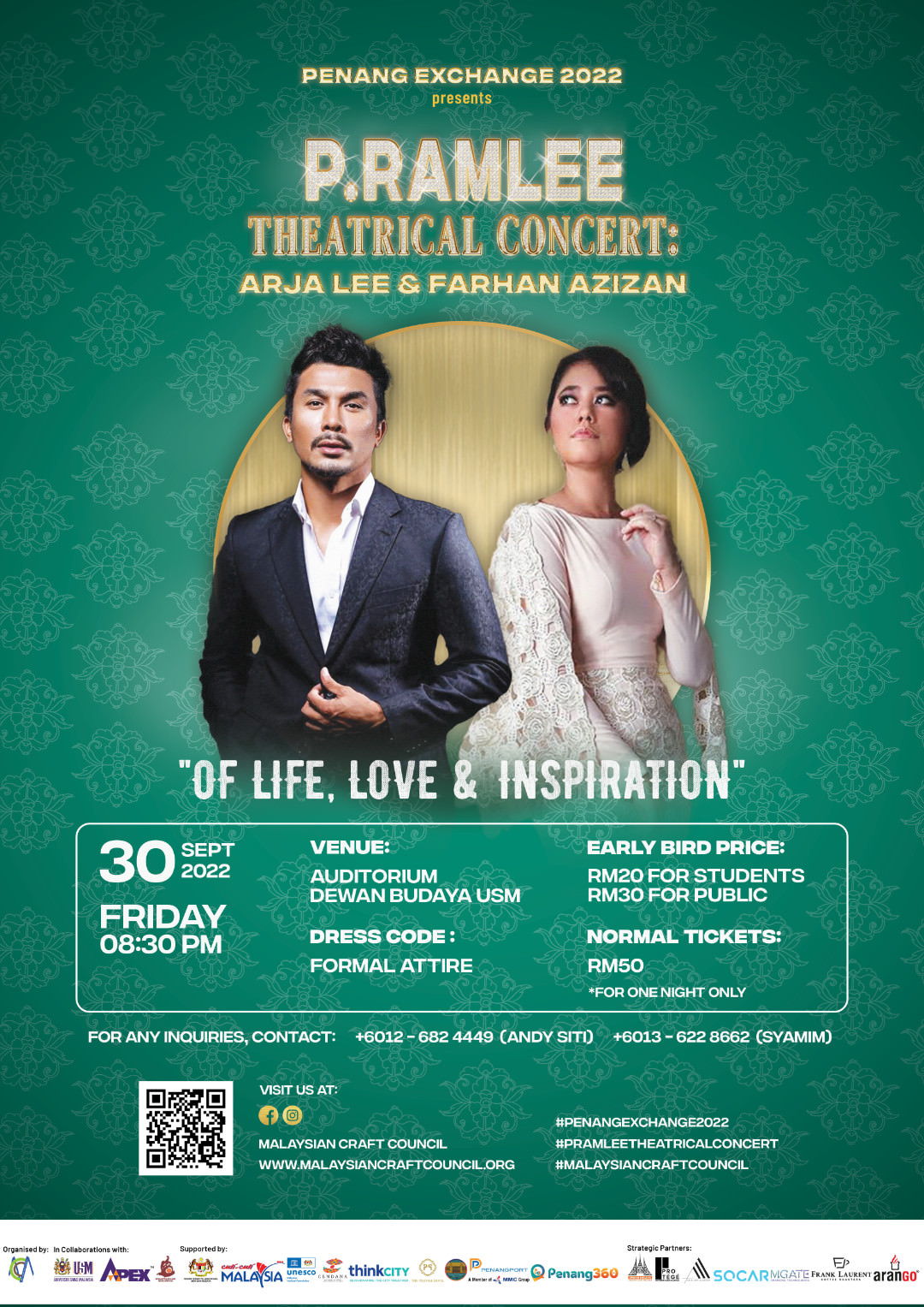 September 30, 2022 (08:30PM - 11:30PM)
Dewan Budaya USM, Persiaran Minden, 11700 George Town, Penang
P. Ramlee Theatrical Concert revisits 12 iconic songs of the legendary performer to pay homage to him and Salóma. This concert will present an elaborate theatrical set to create the mood and give justice to P. Ramlee's legacy using his life, love, and inspiration as metaphors for our artisans' journey in the arts and crafts industry. Special casts of talented singers and dancers will be live on stage, led by Malaysian celebrities Arja Lee and Farhan Azizan.
---
Arts & Crafts Bazaar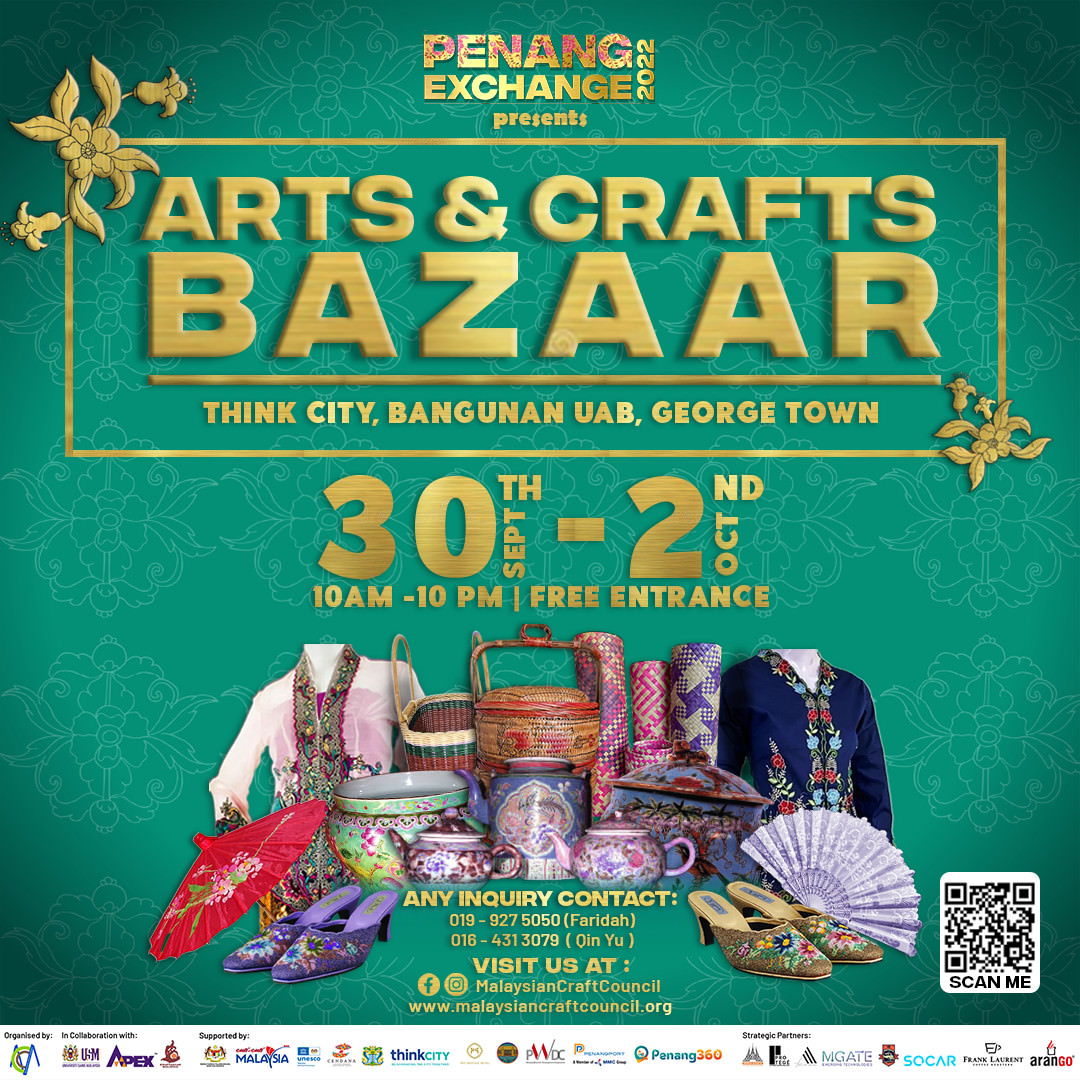 September 30, 2022 - October 2, 2022 (10:00 AM - 10:00 PM)
Think City, 21-35 Bangunan UAB, Gat Lebuh China, 10300 George Town, Penang
60 artisans and art performers will be showcasing, demonstrating, and selling a huge range of artisanal products from all over Malaysia. Meet the makers and artisans personally, hear their stories, understand their journey, and purchase their works directly from 10.00 am to 10.00 pm. It will be a vibrant dimension of browsing, souvenir-shopping, and hands-on experiences of Malaysian crafts with colorful cultural art performances at Think City space, Bangunan UAB Georgetown Penang.
---
Street Food Fiesta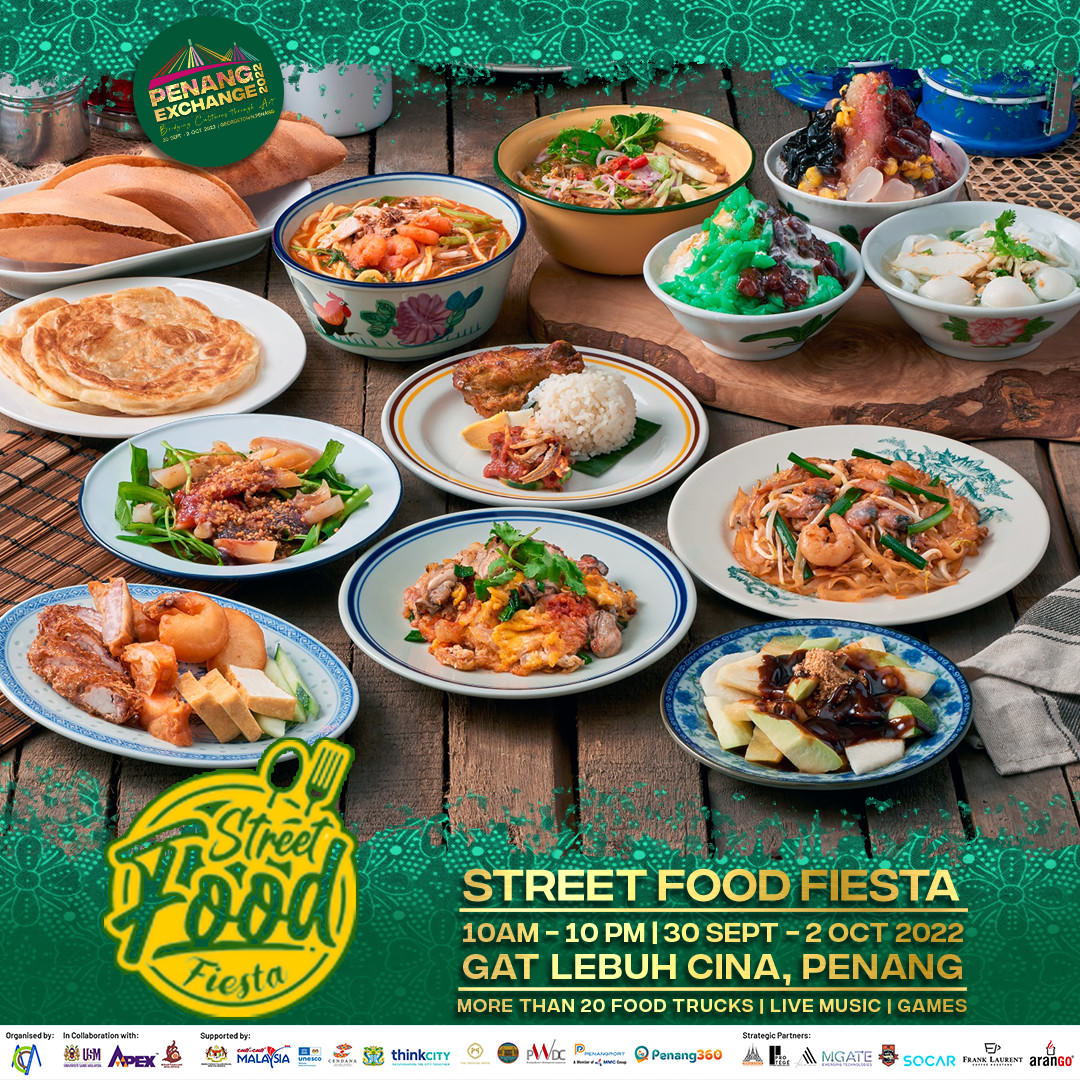 September 30, 2022 - October 2, 2022 (10:00 AM - 10:00 PM)
Gat Lebuh China, 10300 George Town, Penang
Delight your palate with Penang's famous street foods to gather along Gat Lebuh China to further add excitement to Penang Exchange 2022. This fun foodie weekend will transform the street into a food truck village with canopies for visitors. An impressive collection of over 25 vendors – a vibrant Malaysian gastronomical experience for everyone no matter what your weekend cravings are! Grab a bite to eat and settle along the street while enjoying local busking teams serenading you with timeless musical numbers – only in Georgetown, Penang!
---
Busking Performance: Rhythm of the Island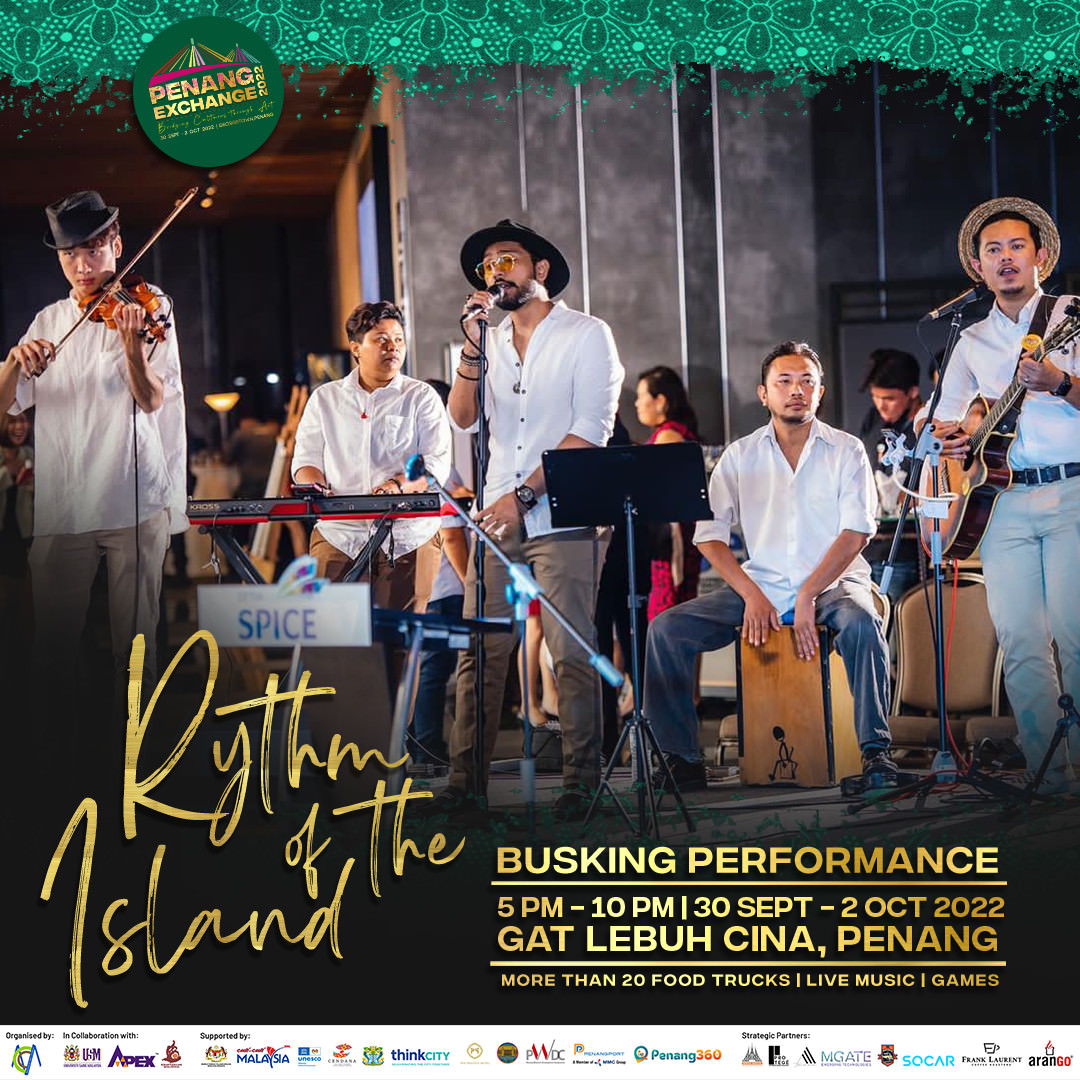 September 30, 2022 - October 2, 2022 (05:00 PM - 10:00 PM)
Gat Lebuh China, 10300 George Town, Penang
---
Dondang Sayang Soiree Gala Dinner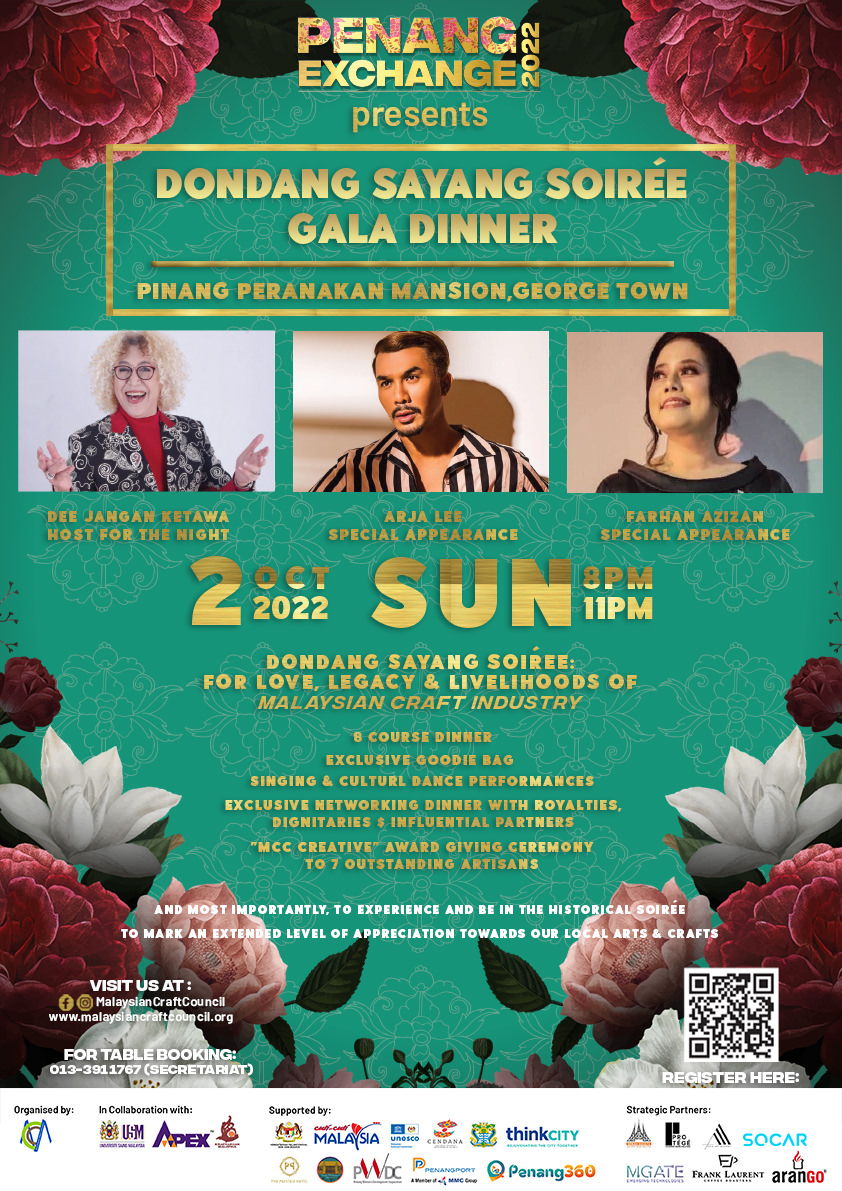 October 2, 2022 (8:00 PM - 11:00 PM)
Pinang Peranakan Mansion, 29, Lebuh Gereja, 10200 George Town, Penang
For Love, Legacy & Livelihoods of Malaysian Craft Industry
Network and join hands with Royalty, Dignitaries & the Who's Who of the high net worth and influential circle to support Penang and Malaysian artisans in their pursuit to continue our heritage craft legacy. This is your chance to play your part and indeed come together in an exclusive intimate fundraising dinner.
---
Arts & Crafts Workshops/Masterclasses
Thinking about where to possibly 'invest' money in a responsible way? Or planning to learn something within a day? A new skill? A new hobby? Perhaps something you can even monetize? Level up yourself & keep our Malaysian heritage craft legacy alive! Penang Exchange will bring a chockablock full of workshops and classes from 11 AM to 5 PM, where you can get creative, learn directly from the master artisans themselves and expand your network.
For just RM50 to cover the cost of materials, there are arrays of arts and crafts workshops to choose from pottery to painting to henna drawing and the latest sourdough craze, we've compiled a list of fun workshops you can sign up together with your friends or family members throughout the weekend!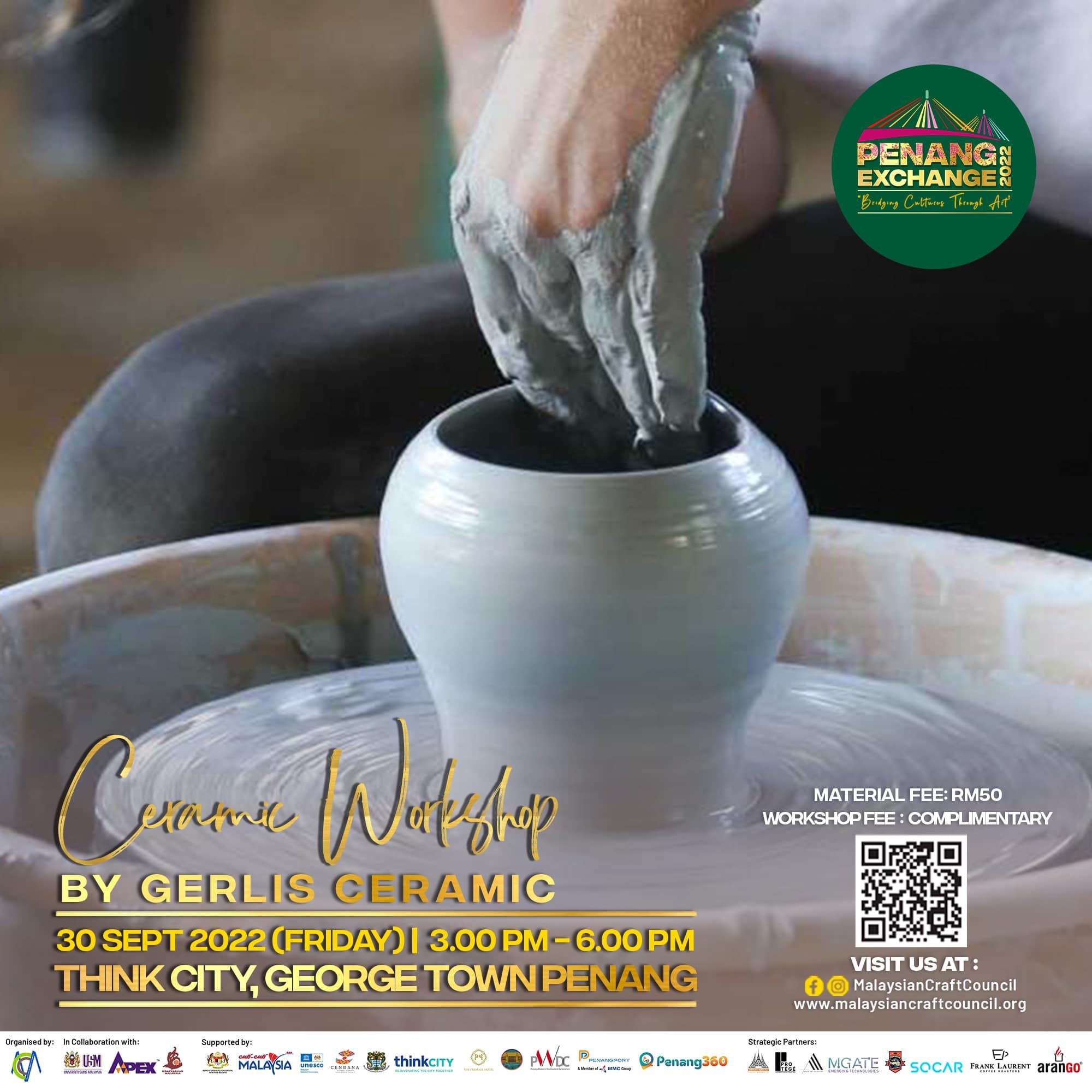 Ceramic Workshop by Gerlis Ceramic
September 30, 2022 (Friday), from 3:00 PM to 6:00 PM
Think City, George Town
Do you ever want to create your own beautiful ceramic and place it in your living room, but you don't know how to make it? (Material Fee: RM50)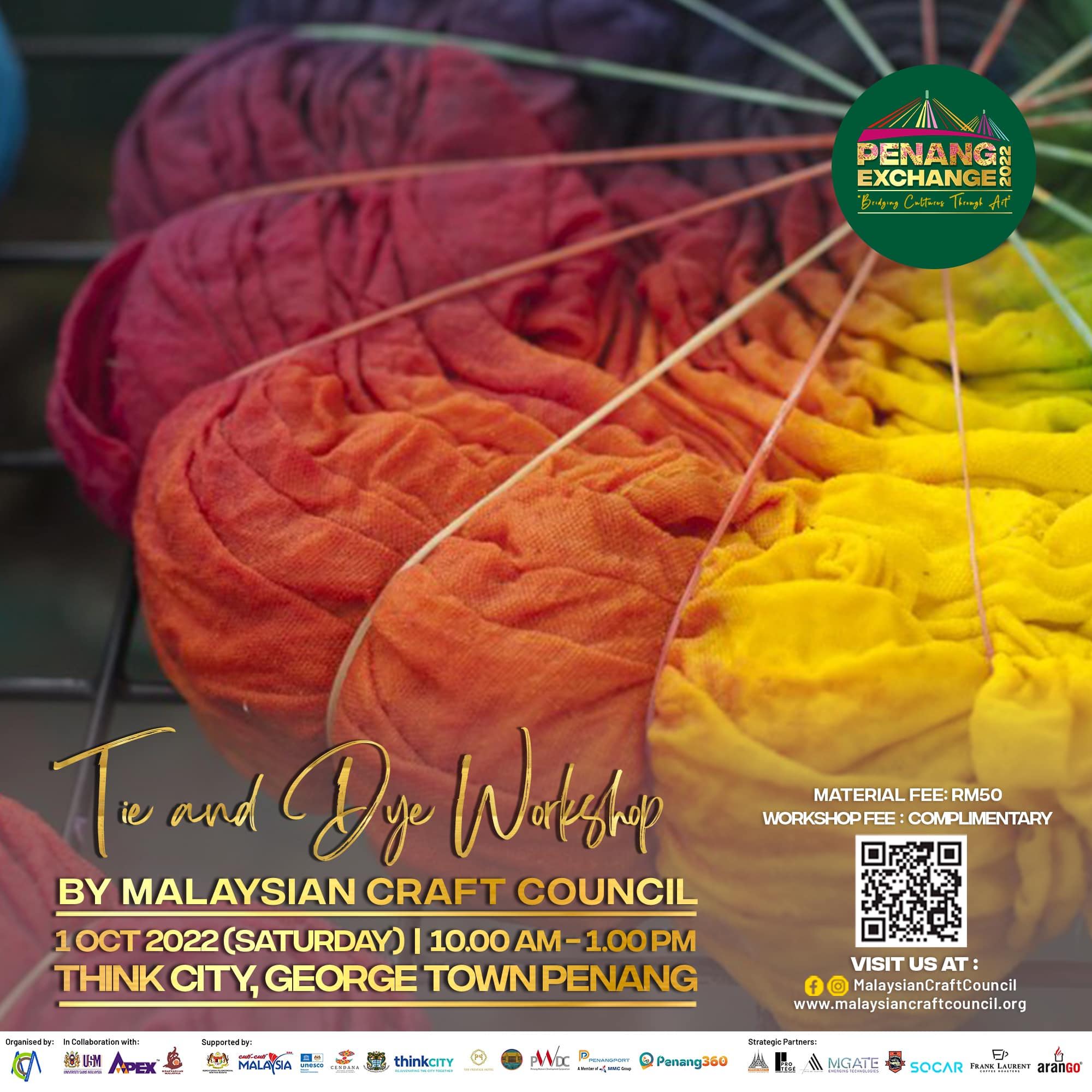 Tie & Dye Workshop by Malaysian Craft Council
October 1, 2022 (Saturday), from 10:00 AM to 1:00 PM
Think City, George Town
Come join us at our Tie & Dye Workshop, and let's have some fun together. Using your passion and abilities, you can create your shirt. (Material Fee: RM50)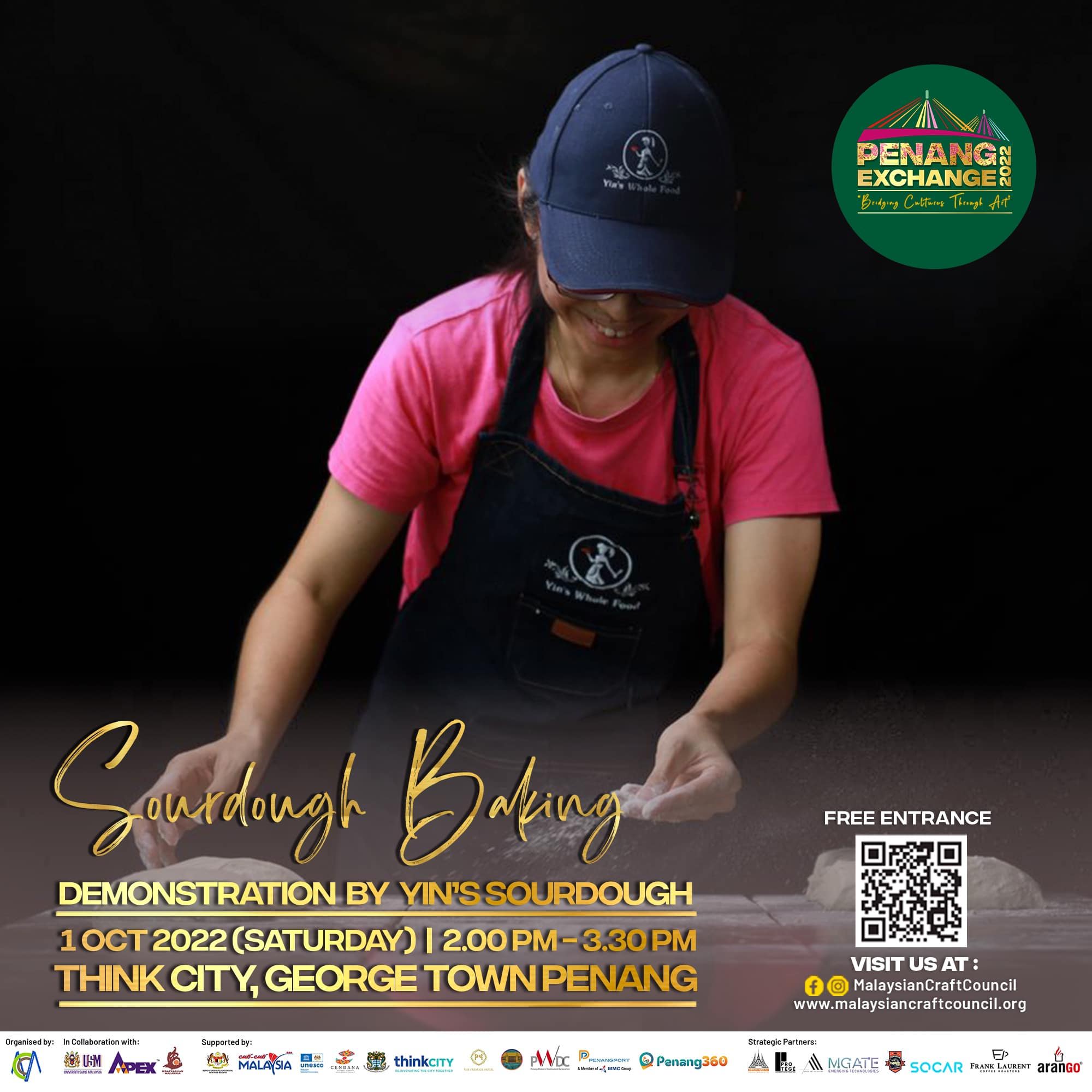 Sourdough Baking by Yin's Sourdough
October 1, 2022 (Saturday), from 2:00 PM to 3:30 PM
Think City, George Town
Have you ever wondered about the process of making sourdough? We bring you to a sourdough baking demonstration led by Yin's Sourdough. (Free Entrance)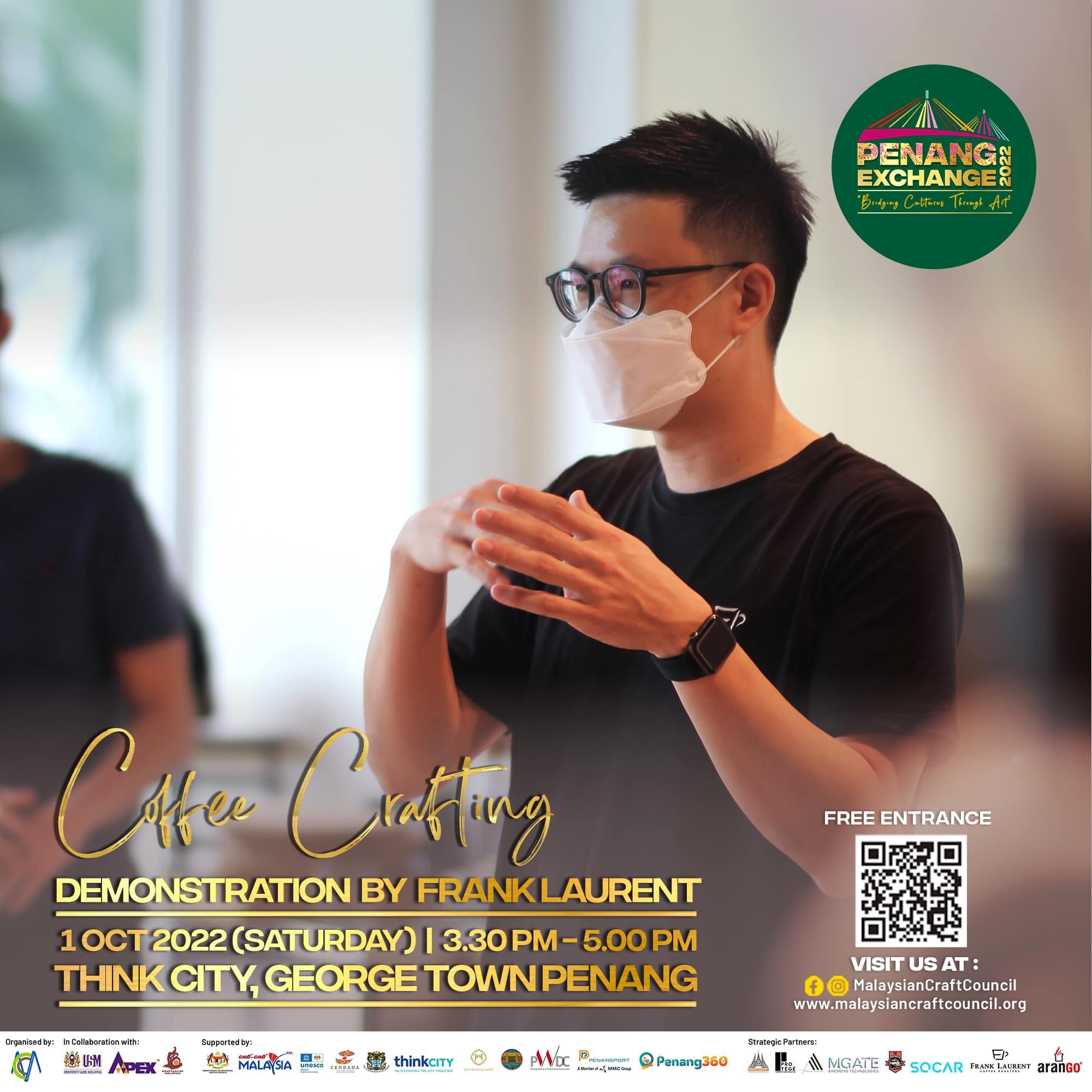 Coffee Crafting by Frank Laurent
October 1, 2022 (Saturday), from 3:30 PM to 5:00 PM
Think City, George Town
A cup of coffee can bring up a whole day, but a cup of crafted coffee can brighten up your daily social media post. Do you want to see a live demonstration of coffee crafting? (Free Entrance)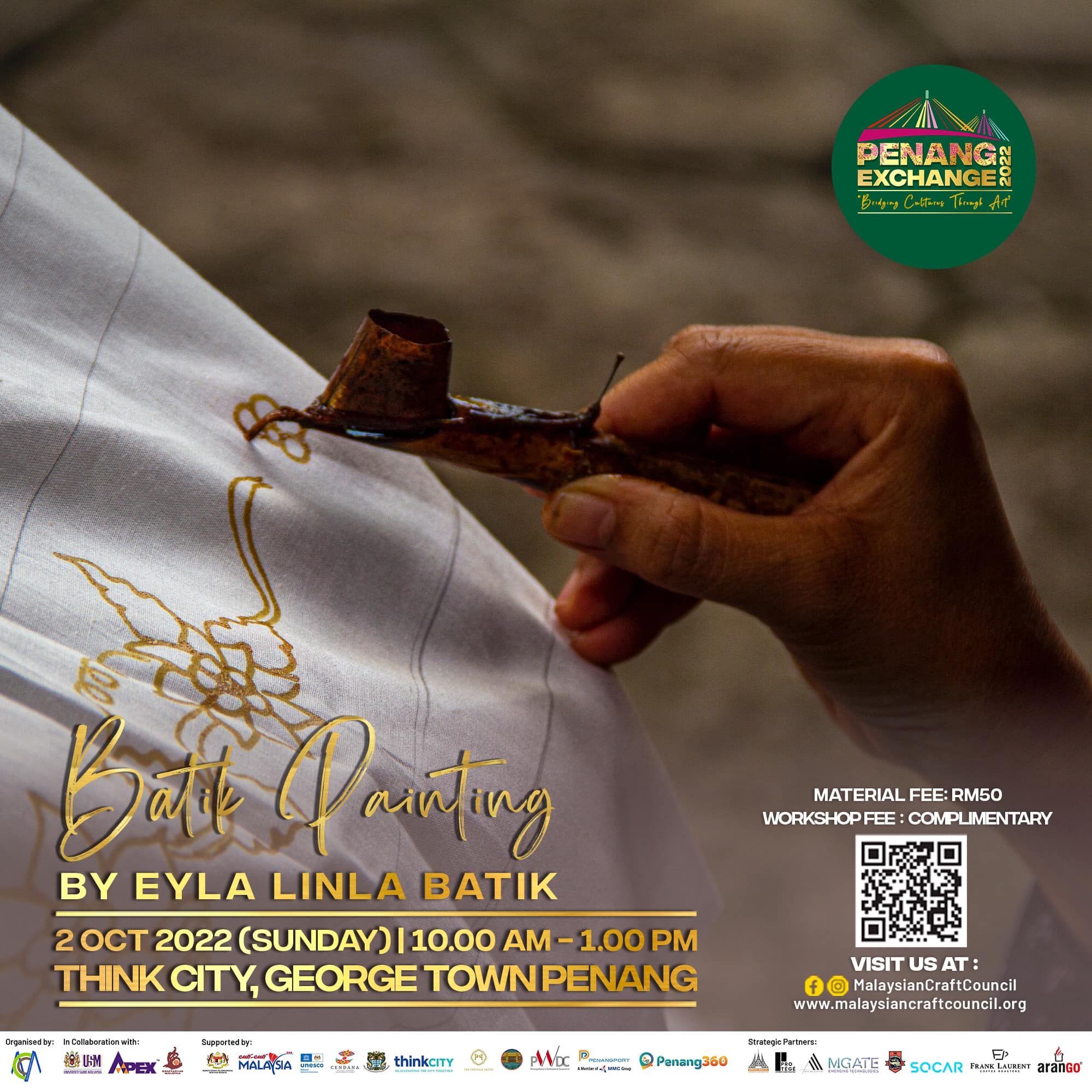 Batik Painting by Eyla Linla Batik
October 2, 2022 (Sunday), from 10:00 AM to 1:00 PM
Think City, George Town
Batik here Batik there Batik everywhere! Are you also curious about how Batik is created? (Material Fee: RM50)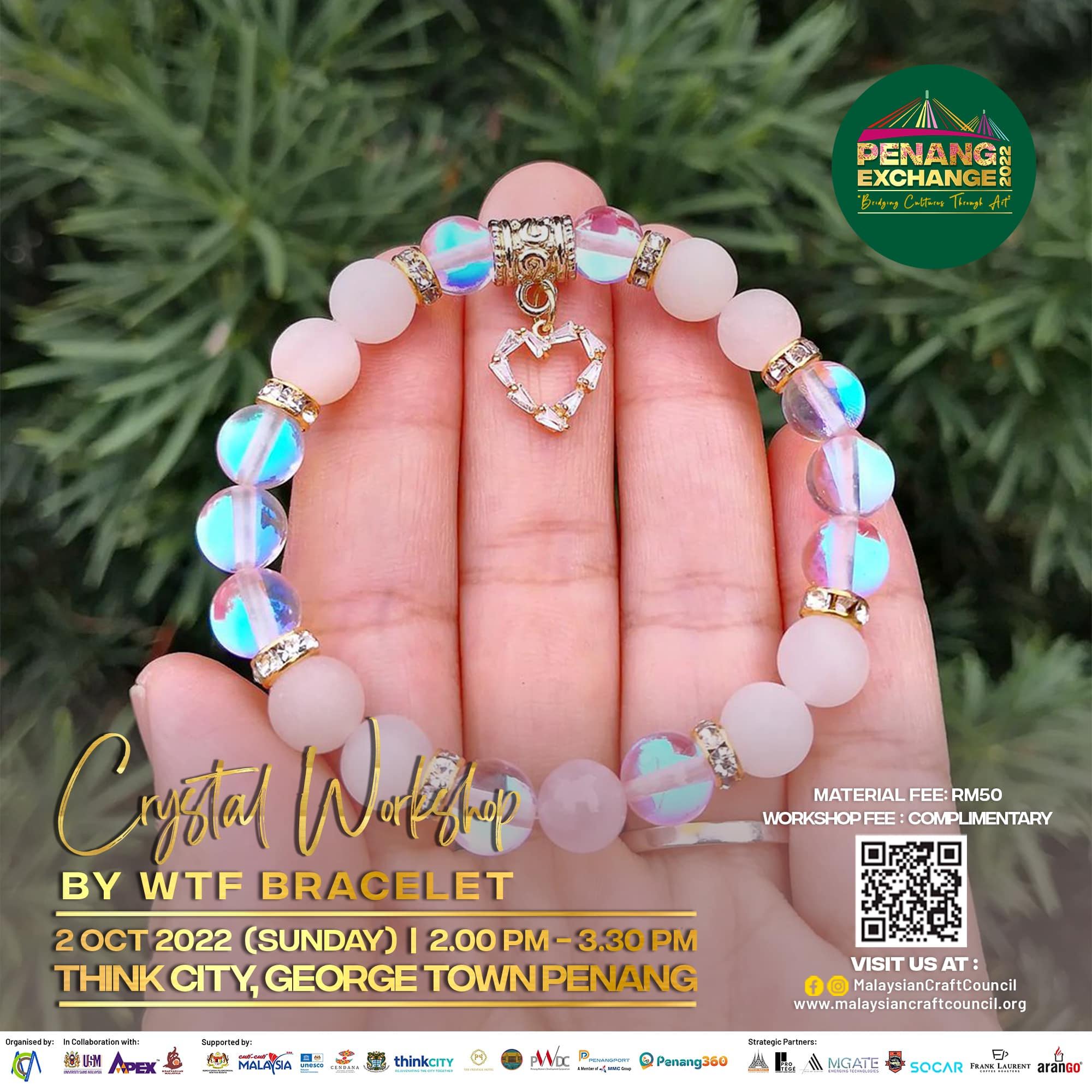 Crystal Workshop by WTF Bracelet
October 2, 2022 (Sunday), from 2:00 PM to 3:30 PM
Think City, George Town
Have you tried making your own accessories before? Enjoy the benefits of this chance to learn a talent you haven't tried before! (Material Fee: RM50)
---